Hosam Soueid, 36, suffered two blows to the head in an assault in 2002 and has been diagnosed with a traumatic brain injury and post-traumatic stress disorder.
He has admitted to following an 18-year-old woman in his car as she left
McDonald's
and then raping her on the street at around 2am in Castle Hill on November 21, 2021.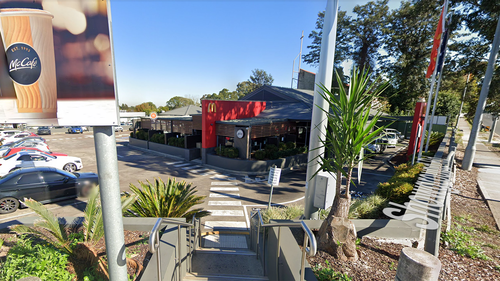 At Parramatta District Court on Tuesday, barrister James Trevallion argued Soueid's jail sentence should be reduced because of the negative mental and physical health impacts of the 2002 assault.
"Your Honour would find that there is a causal connection between the offending and his mental health condition," he told Judge Mark Buscombe.
The Castle Hill man, who appeared in court by audio-visual link, should also get a discounted sentence because of an early guilty plea to one count of sexual intercourse without consent made on November 24 last year, Trevallion said.
There was "limited planning" behind the attack which made it less objectively serious, the court heard.
"The conduct of the offender and the circumstances of the offending are almost, I would submit, the definition of opportunistic," Trevallion said.
The barrister said Soueid had shown remorse in a letter to the court and to a forensic psychologist.
He was also suffering under more onerous conditions in jail due to his mental health and was in protective custody after an assault.
In the letter, Soueid says he had renewed his faith in Islam while in prison and was acting as a mentor to other inmates.
Crown prosecutor Thomas Buckingham disagreed that the offence was opportunistic, saying Soueid had waited in the McDonald's carpark before driving after his victim with his headlights turned off in the early hours of the morning.
After parking his car, he stood off from the sidewalk and confronted the teenage girl.
"Very quickly the pretext of, 'Can I have a hug' … turns into a sexual attack," Buckingham told the court.
The prosecutor also rejected that there was a causal link between Soueid's mental health and the offending, saying that while these were underlying issues, the Castle Hill man had also been self-medicating with cannabis, amphetamines and alcohol on the night of the attack.
Any sentence imposed on Soueid will be backdated to when he first was placed in custody on December 15, 2021.
Judge Buscombe will deliver his decision on Tuesday afternoon.
Support is available from the National Sexual Assault, Domestic Family Violence Counselling Service at 1800RESPECT (1800 737 732).
Readers seeking support can contact Lifeline on 13 11 14 or beyond blue on 1300 22 4636.
Sign up here
to receive our daily newsletters and breaking news alerts, sent straight to your inbox.